It's now 10 years since I started this blog and also by coincidence (for the most part) this is the 1000th post. To mark the occasion, I thought I'd finally share the last big piece of Origin history I'm still holding onto.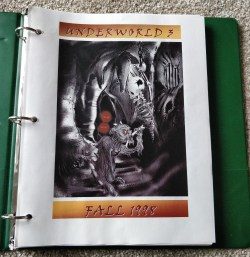 Some years back, I posted a story document for the proposed Ultima Underworld 3. Since then I've managed to get hold of a later design document which has been greatly expanded to include backstory, gameplay and design details. I'm reasonably sure this matches up with the one in the Richard Garriott archives at the University of Texas but without a side by side comparison I'll never know.
I'll let people read it for themselves but to summarise Underworld 3 was going to be built in the Wing Commander Prophecy engine, include multi-player, have a George Oldziey soundtrack (using modified themes composed for the already cancelled Silverheart) and would be set on a whole different world to Britannia.
The first story document bore little mention of Ultima but this has you crossing swords with an imprisoned Shadowlord who was banished to the world of Jaal in Ultima 5 when the Avatar destroyed his shard. The 3 Shadowlords apparently need to reunite to form into the Guardian which seems to imply this game would have been set some time between Ultima 5 and 7. I much prefer this idea to the Guardian being the Avatar's dark half but I'm still not entirely convinced.
There's some basic details on gameplay including some NPC and monster details (trouser snake?). It's a glimpse into the game that might have been and is now available to download here.