It's been coming for a while but my pile of gaming bits and pieces has officially reached the point where I have too much to fit into one small room. As it is, things have been slowly spreading into the spare room over this last year and with more on the way, I've given in to the inevitable and decided to get that set up as a second more communal gaming room with a big sofa, a tube TV and a retro console/computer or two.
I'll have to fit some other things in there as well but this basically means I'm going to be dedicating the whole of my third floor to gaming. If I'm going to do that, I may as well go full hog so drawing some inspiration from Portalarium and Mythic's displays, I'm filling up the walls on my stairwell with picture frames. I can hardly compete of course but let's face it, I'm not short of choice for stuff to put up there. The main limitation is that I'm doing this on the cheap so professional framing is out of the question. It's more a case of buying the frame and then seeing what I can fit into it.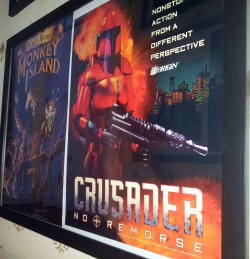 First on the wall, we have this giant frame with two game posters which are unrelated other than being two of my favourites, Crusader No Remorse and Monkey Island 2. Apologies for the angle of the photo but there isn't a whole lot of room for taking pictures.
I should concentrate on Crusader for the purposes of this blog, not that there is a whole lot to say about it. It's an original poster from 1995 and another one of the items I brought back from Austin. If you are getting the idea by now that I must have been carrying more items for the collection than regular luggage on the return leg, you would be right. As far as I know these posters were only made for promotional use and were never on general sale so they aren't all that common. I now have a roll of about a dozen of them though so if anyone else feels the need to own one, make me an offer.