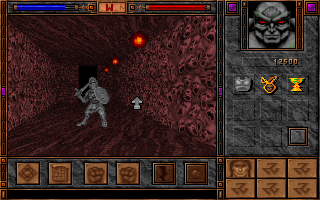 I found a stone sword for the statue elsewhere in the bone section. I bring it back, use it on the statue and a doorway opens.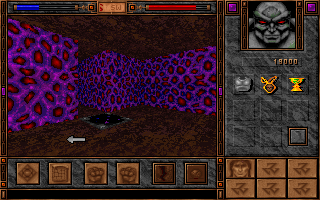 Behind the doorway is a bone crystal. The map starts to make a bit more sense at this point. Its divided into bone, blood and flesh sections. I have to find a crystal in each and use it on its matching pillar in the middle of the level. Once I do this a teleport appears.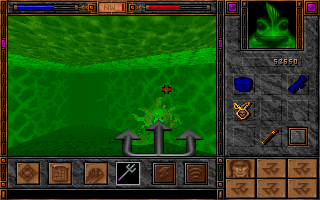 In the original version I would go straight to the end level here but on the CD version I have 2 more levels to complete. These levels are intermixed with underwater bits so I have to swap between them constantly in frogman form.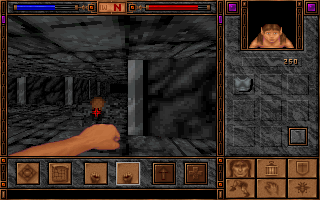 There is also a little section which I can only walk through as a caun since the roof is so low. I even have to fight a few spiders in here which take a while to punch to death but I heal faster than they hurt me.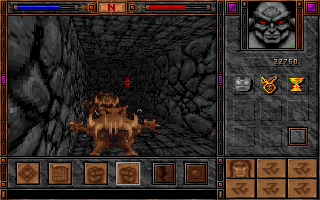 There are a few new monsters to be found. These warthog like creatures are pretty tough by any standards.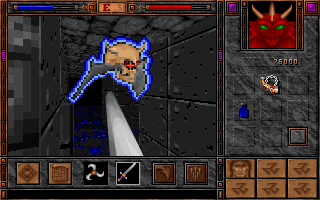 The hardest section by far involves an electrified floor which I have to navigate as a dragon. The flying skulls in particular near enough wipe out my health every time unless I'm lucky enough to be able to attack around a corner. I end up taking them out one at a time and retreating to heal which is dull but ultimately effective.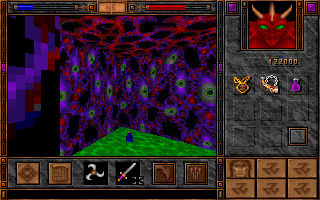 After a lot of messing around I finally teleport out to an eyeball walled section which fills in the gaps on the underwater level. This is fairly nasty and full of traps such as the floor turning to acid in this section so I have to quickly change shape.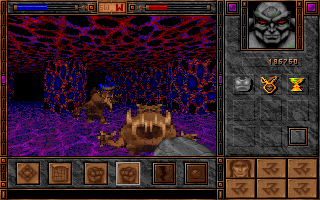 To finish off the new levels there is an attack by about 8 warthogs simultaneously. I kill off the ones in the way and run for the exit rather than hanging around.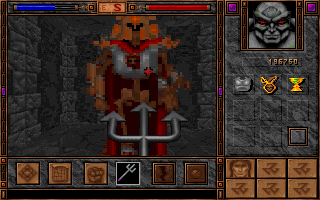 This brings me to the final battle with Veste. At first he appears as a cleric but then changes form and attacks.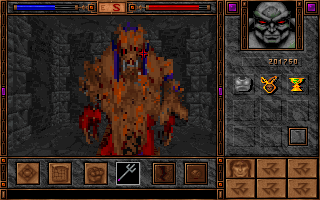 Every time I kill him he morphs into another of the games monsters.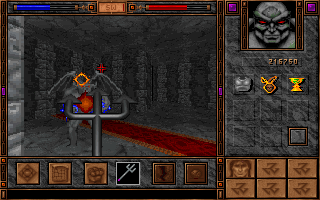 At last I get to his final form. This battle is less than tactical. I've run away to heal once, swapping to caun, casting heal, then coming straight back. Otherwise I've just spiked him with the trident as quick as I can. It proves effective in the end and I get the end cutscene.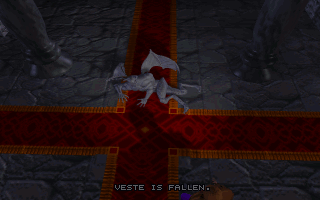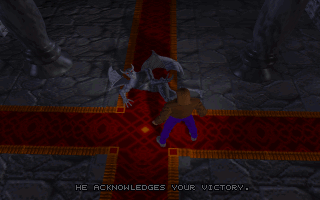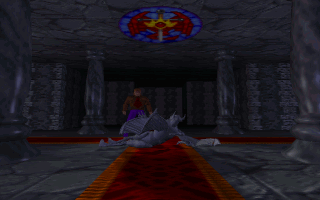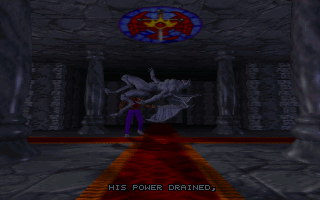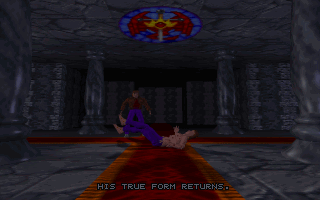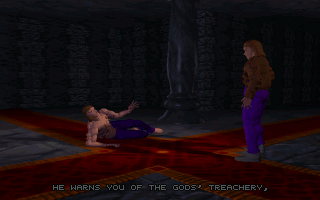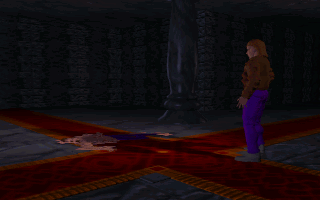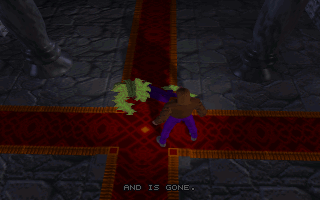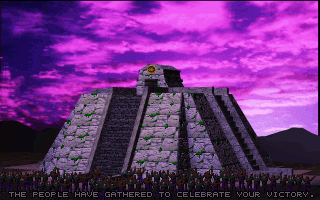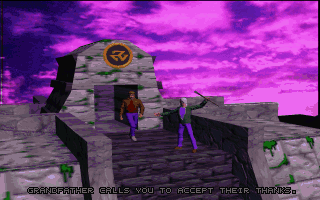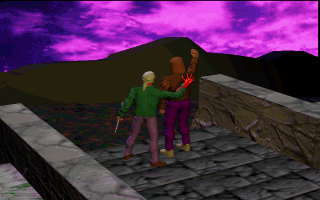 Veste warns me not to trust the gods and the end also suggests that my grandfather isn't to be trusted possibly hinting at a sequel which was never all that likely to happen. Its not the most satisfying of endings and I don't remember it being quite like this in the original version of the game but it was a long time back and I can't say I recall anything much about it.
I've not changed my opinion of this game on the way through. It's looks fairly nice for 1993 but doesn't have a lot else going for it. The shape changing idea was a good one though – it wasn't entirely wasted but more could have been made of it.
The 2 extra levels were new to me this time around at least. I've heard them described as the best levels in the game a few times but there isn't anything too original. They did require me to use several of the shapes to get through but there is absolutely no way it is worth buying & playing the game again just to get to them.
I'm disappointed with the CD version in general, I would expect the original cutscenes to be improved on but these are worse than the floppy version. The scenes to introduce each new world are a good idea but not well implemented. The game still feels like each world was developed in isolation and thrown together at the end. The fact that the new cutscenes try to put this together into a story just highlight this. Strangely, the cluebook actually has masses of backstory for each level. They should have tried to work some of this into the game through characters to talk to or readable books.
According to the Raven games website they were not that happy with the final game either. Looking at the development history, the premise of the game changed about 4 times along the way before the project landed at Origin which would explain the result. I also gather that improving the Wolfenstein engine was so much work it would have been easier to just develop their own. It is still as far as I know the first 2.5D game which came out on PC and something of an achievement in that sense. Origin had put out 2 far more complex and fully 3D Ultima games by now and this game just serves to highlight how much ahead of the game the Underworlds were.
One of the things that always drew me to Origin as a company in the 90's was the way they were never happy by just stretching the technology and always took things a bit further. A game like Wing Commander would have sold well if it had just had the missions – the additional cutscenes and character interaction were not strictly neccessary but ultimately helped to make the series a classic. Origin also concentrated on the underlying gameplay. Underworld and Ultima 7 both had state of the art game engines, very different in their own ways but these engines are in no way the main reason to play either game. Because of the extra effort involved both are still utterly playable 15 years later. Crucially for me Origin games also usually had a story and told it well which is what ultimately drives me through a game.
Shadowcaster nearly fails on all the above counts. It's saving grace is that 3D games were still in their infancy and its world was more interactive than games like Doom (which was still to come out) but I'd much prefer to have seen another game using the Underworld engine instead of this.
Next: Wing Commander – Privateer