PC gamers had to wait some years for the sequel to Thexder but it duly arrived in 1990, just 1 year after the Japanese original.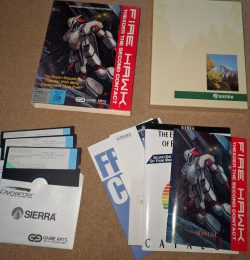 The name Thexder was relegated to the subtitle not making it obvious at a glance that Fire Hawk was a sequel at all but all the core elements of the game remained largely unchanged. This time there is a proper manual with a cartoon backstory contained within. The Thexder robot was apparently designed for working in space rather than for combat. While the human race is busy expanding into the galaxy, there is an incident involving an asteroid called Nediam in which Lieutenant Arthur is left behind in his Thexder unit while his mothership escapes. The asteroid then starts slowly making its way towards Earth. 7 years later, the Thexder robot has been upgraded for combat and Arthur's girlfriend steals the prototype to go stop Nediam and rescue her man.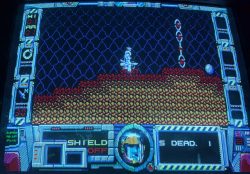 Whatever the story may be, the gameplay is so similar to Thexder 1 that I'll keep this post down to a bare minimum. What has changed is the presentation with everything considerably more polished this time around. This means much more colour on the screen, an excellent MT-32 soundtrack with different music for every level/boss and a considerably faster framerate.
The difficulty level has also been stripped back considerably which should be a relief to most of us. You will still have to work to beat this game but it's very forgiving in early levels. Each level (of which there are 9) is split into 4 sections with the last of those being a boss of some description. You can load from the beginning of any of the levels and get two attempts at each boss before you have to start back at the beginning again. I'd say it strikes a good balance between challenge and frustration.
There is a plotline as such about which bits of Nediam you are taking out at any given time on each level + you can talk to the battered shells of other fighters sent in ahead every now and then. None of this matters other than the occasional hint. It's just about finding safe routes through every level and trying to pick up as many shield increase power ups as possible along the way.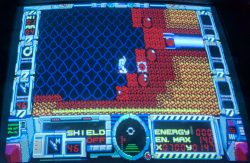 The bosses usually provide the greatest challenge and much of the game is still about learning the tricks and techniques to pass any more trying section. Once you have these down a previously difficult section can become trivially easy. This is especially true in the later levels.
There are a much greater array of powerups available this time around of which the player can carry 3 around at any time and select between them. The most interesting is a powerup to stop time for 20 seconds and clever use of this is essential later on to fly around otherwise tricky enemies or fly under boulders before they can fall blocking passages.
The player can also pick up powerful homing missiles to significantly boost firepower and shoot around corners which add a further tactical edge to gameplay. Another major change I should mention is that the shield can be used whenever you like in this version as the reward for not using it is no longer there. This turns the shield into a useful option rather than something to be shunned at all costs. It may as well not have been in the first game other than when exploring levels the first time around.
The final boss starts out as a giant red spot which has to be shot until a monumentally large uber-Thexder erupts out of the ground. Beating this guy is trivial, you just keep shooting him in the back of the head. It's a slight anticlimax in that sense but the thing must take up about 5 screens so that much would have been impressive in 1990. The real challenge was the level 8 boss which took me a couple of days to figure out. Level 9 is more of a victory lap really much like the final level of Thexder 1.
After beating the game, you discover that Nediam was heading for Earth because of Arthur (still alive somewhere on Nediam) and his desire to reunite with the heroine of the story. He gets rescued and they presumably live happily ever after while the scientists of Earth get to raid the new moon that now orbits the planet.
Fire Hawk was very much more of the same but ultimately a lot more playable than the original. The new powerups added variety and tactics, the level design was more varied, the faster gameplay gave an arcade edge and the MT-32 soundtrack leant atmosphere to the whole experience. I've had this game sat on my shelf for about 15 years unplayed and wish I'd got around to it sooner now. It's easily one of my favourite PC shooters of this era (not that there is all that much competition) and definitely recommended.
That just leaves Zeliard from the Sierra Game Arts conversions but I'll leave that for another time and will probably be having a look at some more old hardware next.