There is no Origin link to speak of but I'm planning on taking a look at the original Grand Theft Auto over the next month. This is a series that completely passed me by until the third game took the world by storm some years later. Since we are just coming up on the 20th anniversary of it being released, I am as usual I'm a bit late to the party.
Normally, I'd play the game first and then look at the reviews but I'm about to start packing for my house move in hopeful anticipation of agreeing a moving date next week. The logical place to start packing is the stuff I can live without for a month or two which in my case means lots of old computers, games and magazines. So before they get stuck into boxes, here are all the GTA reviews I could dig out.
First off we have the Xmas 97 PC Gamer:-
This is from the Xmas 97 PC Zone:-
This is from the Xmas 97 PC Format:-
And to finish, a review from the ever tardy PC Guide in April 1998:-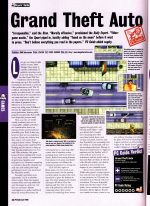 It's safe to say that the reviews are all glowing which begs the question as to why I never bought this game back at the time. The answer probably lies in this coming out about the time I started my first job of any note. As I recall they took nearly 6 months to get around to paying me. It was a sizable paycheque when it finally arrived, a large chunk of which went on a rather nice PRS guitar that I still have, but I probably wasn't spending much on gaming in the first half of 1998. Better late than never anyway. I'm a little wary about the lack of saving mentioned in one of these reviews but am looking forward to getting stuck into this game whether I can finish it or not.