I got a request yesterday from one of the guys at Kryoflux who had found the blog and he asked if I could make clear the situation with the replacement board being OK. I'm stuck covering the office today and as you might expect there isn't much going on so I thought if I was going to do that, I may as well write up a short review to pass the time:-
The Kryoflux was developed by the Software Preservation Society as a tool for preserving disks. It is a small circuit board which allows you to connect a floppy drive and read disks through a USB interface. That doesn't sound like anything special, except for the fact that the board is able to read at a very low level and can read disks from any system. Better still it will do this with most standard PC 1.44Mb and 1.2Mb drives and it's also able to image any copy protection. If you go back far enough, near enough every game had some form of protection although this gave way to things like code wheels as games got larger and were installed to hard disks. Before the Kryoflux, the SPS had a system for reading disks using an Amiga but I think this was less versatile and having to use Amiga's is not ideal.
So why would you care about having disk images in the first place. A few reasons come to mind. I think the goals of the SPS of preserving every game for all these systems is a noble one and worth supporting and this is a means of helping them out. After imaging the disks, I can upload them to their ftp server for them ultimately to mix and match tracks with other peoples scans to make perfect unaltered disk images. In theory, I gather that they will ultimately send me DRAFT files of the disks when they have them which would be very welcome for where I've got disks with bad sectors. Floppy disks do degrade over time and many are already past their life expectancies. If they aren't imaged soon it will never be possible.
As far as just playing the games goes, for years I've tended to use abandonware sites rather than my own disks if I've wanted to play a game. There are a few potential problems with this. First off, there is no guarantee that I'm even going to be able to find the game. Secondly, if it's from an abandonware site, it invariably means the game has been cracked. Not necessarily a problem if the crack works as it should but they often don't.
As an example, I was trying to play Epic a few months back. I own the game but my disk 3 packed in on me within a couple of months of buying the game so I'm forced to get it from an abandonware site. This is easy enough and it seems to work OK, until I get to mission 2 and during the briefing the game hangs for about 10 minutes before eventually distorting the next few cut scenes and allowing me to carry on. Another example would be Monkey Island 2 where the crack removes the ability to choose which level you want to play at, as the game originally had a Monkey Lite mode.
Another issue is games that aren't necessarily cracked but are missing the install program or drivers. Having a couple of MT-32 synthesisers, I obviously want to use them to play games where possible but nearly every game is set up to use adlib by default and if the drivers and/or setup programs have been stripped from the download to save space then I have no way to swap to MT-32. Finally, there is just the fact that I'd like to play the game as I remember it and in it's original form and the copy protection while annoying in some games was part of the experience in others.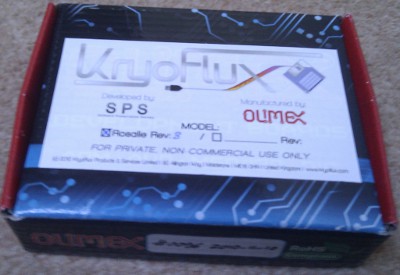 The board is available as part of various packages or on it's own. You have the option of buying things like floppy cables, power supples (for the floppy drive), USB cables, etc… from Kryoflux as part of the package. They are cheap enough if you need them but I'll just look at the board itself.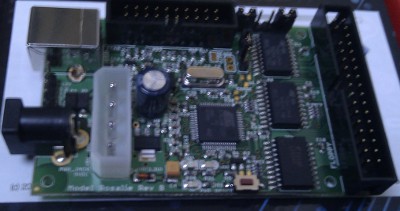 It is quite small with several connections although the only ones I've needed to use are the standard USB connection and the floppy cable socket. There are jumpers on the board which can be used to set it up to work with either one or two drives and another jumper which clears the firmware. Your PC uploads the firmware every time you plug it in so this last one isn't likely to be used often. The drive doesn't attempt to act as a standard floppy interface as such, so you can't access your disk drive through My Computer in Windows. Instead you have to create disk images using (at the time of writing) a command line tool called DTC. Like most command line interfaces, this feels a little unwieldy at first but is actually quite efficient when you get used to it. A GUI version is in development but isn't available at the time of writing.
DTC gives the option to export straight to various formats of disk image, although if you want a preservation level scan the only option available for the moment is RAW format. This gives quite a file size considering how little data is actually on one of these disks with a single 1.44 Mb floppy being in the order of 70Mb. It also has separate files for every track on each side of the disk leading to 160 files+ for each disk. These files all add up and I think I was up to about 40Gb by the time I finished imaging everything and I've still not done my C64 or Apple 2 disks. Another file format (DRAFT) will be supported soon which will get this file size down to some extent and also reduces it to one file per disk. DTC will be able to covert into this format from RAW so I won't have to re-image my disks thankfully.
Once you've settled into the process, reading the disks is reasonably quick although full preservation level scans do 5 rotations for each track slowing it down considerably. As you might expect, reading all these old disks you get a lot of disk errors at first. A straight preservation level scan will read the disk as is and will make no attempt to validate what it is reading. However you can simultaneously, export to a particular formats image type. I.e. a .img for PC disks. This will validate each sector of the disk and retry as many or as few times as you like. This is one of the best aspects of a tool like this, in that you can just leave it doing 1000 retries. The process isn't perfect however and unless I'm missing a trick, it can occasionally fall foul of it's own flexibility. For example, if you are doing retries to read that one bad sector, it's not uncommon for one of the retries not to find that sector in the first place so it reads 17 good sectors, doesn't realise that the 18th sector is missing and then moves on. It is possible to specify the number of sectors, but it still moves on marking it as having a missing sector so it doesn't help. There may be an option I could set to solve this but I haven't found it. I kept my eye on the scans to some extent. but as you would expect imaging all these disks took a lot of time and was more a job I could do at the same time as I was doing something else, so it got nowhere near my full attention. I'd quite like it if there was a quick message at the end of the process which says whether anything unexpected happened, rather than having to sift through pages and pages of text. For the most part DTC does its job well though, and will only improve as it is worked on.
I've found that often with my old disks, reading them the first time is tricky but subsequently they read flawlessly. The old technique of breathing on the disk while rotating it works as well as ever for cleaning them off and Kryoflux allows you to start and finish at any particular track so you can pick up where you left off rather than restarting at the beginning. IMG files created like this won't work as they are missing the earlier sectors, but it is easy enough to recreate .img's from the raw image data using the DTC tool. This process doesn't require the kryoflux board. An option to pause the process while you are breathing on the disk would be nice, so that I didn't have to alter the command line each time on particularly dirty disks.
I've had no problems at all with any PC, Amiga, ST or Mac disks. C64 games are a problem as they are usually on flippy disks which you had to insert upside down to read the second side. Due to various limitations with most drives these aren't readable without either butchering the disk with a second index hole or some surgery on your floppy drive. This will never be solvable purely by using a standard drive unfortunately so it's not a limitation of the Kryoflux. I've also had very mixed results with Apple 2 disks. Since I don't have an Apple 2 to try them out on, it could just be my disks that are the problem but I don't think DTC supports a lot of the strange file formats used on these disks yet. They also have the same issue with reading the second side. I'm primarily into PC games however. When I own something in another format, it's only because I couldn't get it on PC at the right price at the time or because it didn't come out on PC first time around, so I'm not actually that worried about getting images of these disks myself. I didn't have any luck with my California Pacific Ultima which would have been the exception here. Just looking at the disk surface, makes me think there was never much hope as it is slightly mottled. My big box Ultima 2 disks will only be a couple of years newer and these read perfectly on the other hand.
So once you've got all these perfect disk images, what can you actually do with them. Here lies another problem as things stand. The Kryoflux will eventually offer the ability to write images, although I'm expecting you will need very specific drives for this to work correctly with copy protection. Being able to reproduce the disks would be a very nice feature but not something I'd be likely to use very often myself. I'm more interested in just playing the games through emulation. Being a PC gamer, this usually means Dosbox which is where the problem lies. Dosbox's disk support seems to have actually degraded over earlier versions, with for instance the ability to swap disk images not being in the latest version. It also only supports straight ".img"'s which don't contain enough detail to reproduce copy protection. Basically this means that even after you have your perfect disk images, you still can't play a lot of the games. Many can be installed by extracting the disk contents into a directory. Others can be installed through a virtual machine and then moved to Dosbox, but anything with copy protection is unplayable until Dosbox adds support for the DRAFT file format. I gather that a few emulators for other systems have already done this, but as a PC gamer I'm stuck waiting in the meanwhile. At least I know that I have a disk image ready, and unlike the disks themselves this image isn't going to degrade with time.
To get back to the initial point that prompted this post, the first board I received was faulty out of the box, presumably having been bounced around in the post. I received quick responses to this and ultimately a replacement board which has worked fine. As far as I know, I was the only person to have any problems from an initial run of 80. A second batch has just arrived and is in stock so if you fancy one of these for yourself, you may just have chance if you get your order in now (assuming they haven't already been sold on pre-orders). I think the package I bought was around 90 Euros, which is fairly expensive in my eyes but it's a limited market and there is nothing else available that will do the same job. I don't imagine there is exactly a lot of profit being made on these, and when you add in the effort that has done into it, I'm sure it's a labour of love for anyone involved. If you have the skills, the full specs are also available on the kryoflux website for anyone to build their own.
There is plenty of scope to improve usability still but most of this lies in other software as far as I'm concerned. A command line tool isn't the most user-friendly but this is a gadget aimed at enthusiasts who won't have a problem with it. Ultimately, I'd like to see the DRAFT file format become a standard that you expect to see supported on any home computer emulator. Alternatively, a Windows 7 floppy emulator with DRAFT support would do the job nicely, since this could immediately plug into any emulator with support for a real floppy drive. If it was possible (and I can't see why it wouldn't be) to write a windows device driver to allow you to use a drive directly through Windows with the Kryoflux that could also be useful. For the moment, if you have a load of disks you want to back up, this does the job perfectly but it still doesn't quite achieve what I'd like through no fault of it's developers. Fingers crossed that Dosbox support is on the way.
If you fancy one of these boards, or want more details the website is at http://www.kryoflux.com.
I'm posting this inbetween getting a few beers after work, and heading out again for a few more. My usual lapse standards of proof reading haven't been followed so apologies if this review doesn't read all that well. I'd like to wish a happy Xmas to all and I'll be back in a couple of days, probably with another book review.