Back around 1992, PC gaming was just starting to take off here in the UK. A gaming PC was a long way from being cheap but at least the price was no longer flat out ludicrous and sound cards and VGA graphics were within reach. I'd just upgraded to a 386SX which still wasn't entirely up to the more power hungry games like Ultima Underworld but there were plenty of games out there and precious little information about which were worth getting. I'd got by with the 2-3 pages in the gaming section of PC Plus magazine for several years before finally spotting PC Review in a magazine shop and never looking back. For a while the buyers guide at the back was something of a bible as to which games I should buy.
I was clearly late to the party as PC Review was already up to issue 7 (May 1992) at the point I discovered it. The magazine also had a predecessor in the form of PC Leisure (several issues of which are available at Thonor's Vintage Magazine Scans) but that was only published every few months rather than monthly. Neither of these were entirely gaming based with articles on PC upgrades and the like. This minor technicality stopped them claiming the Britain's first PC gaming magazine title that PC Zone used when it showed up some time later.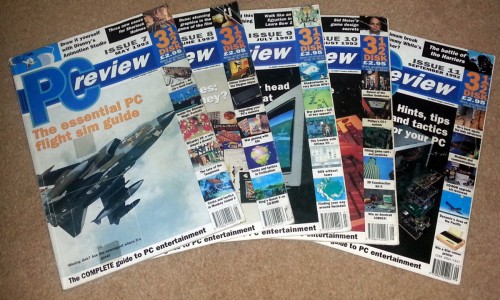 I never subscribed but I bought PC Review most months for many years after which all of these magazines languished for 15 years in my parent's loft until I rediscovered them. I scanned the first five copies I have around the time before I started on the PC Zone scans already uploaded on here. I thought I might as well share so there is now a PC Review folder in the PC Zone archive on this site. The pdf's are on the unnecessarily large side as I must have decided not to compress them too much back when I did the scanning.
As far as any Origin references in these, you don't have to look too far. I've already scanned in all the reviews for this site but in a quick glance I spotted letters about setting up DOS to run Wing Commander, a mention of the Wing Commander strategy guide + a complete guide to Ultima Underworld spread over a couple of issues. There are also reviews of other personal favourites such as Indiana Jones And The Fate Of Atlantis + Another World. Enjoy anyway and if you happen to have any earlier issues you are willing to donate, sell, scan or lend I'd very much like to hear from you.