This is going to be a quick post as it's a tale of abject failure. When I played The Horde a few weeks back, one of the reviews mentioned a ReelMagic version of the game which got my curiosity going. The ReelMagic was an MPEG-1 decoder card released around 1993 which could be used to play back full screen video at a time when PC's weren't really up to the job. This card predates DVD decoders and was used in a handful of games at the time such as Return To Zork. Full motion video in gaming was still in its absolute infancy so this was cutting edge stuff on a 386 at the time. The games it supports are clearly going to be the definitive way to play them and I've always been intrigued so I picked one up.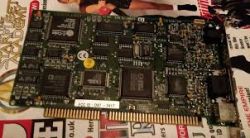 This is what arrived. It is one of the later models of the card and is considerably smaller than the originals. The first models used a VESA cable to connect to the video card in the same way as the VFX-1. This one uses a pass through cable instead just like an early 3DFX card or the later Hollywood Plus DVD decoder. It does of course use a proprietary cable which it didn't come with. My first thought was that to test it out I could just connect my video card to one monitor, the decoder to another and see what it would look like.
The drivers are available on the VOGONS website so I installed these. There was some protesting during installation but I got it through in the end. My PC still wasn't having it though and hung on boot up when trying to load the drivers to memory. There is apparently a test when starting that the connection is in place so I definitely needed that cable.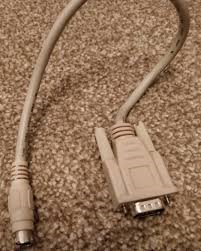 Another trip to Ebay later and I have the cable. This does indeed cure the first problem and I can boot the machine up. What I haven't managed to do is play any video on it. Every time I try to run anything, I get an "Interrupt Not Found" error. I've tried various driver versions, messed about with the IRQ settings, pulled out every other card in the system, all to no avail. I'm about ready to admit defeat and beginning to think that this card just won't work correctly in a PII – it was really intended for 386/486's.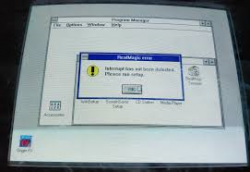 You can't win them all I suppose. What I really need is a 386 to try it out with but they are getting thin on the ground these days. If anyone has any bright ideas, let me know. Failing that, I'll write this one off to experience.