The next game I've picked out from the pile is Thexder, a 1987 release from Sierra which originally came out in Japan on the PC-88 in 1985 via Game Arts.  Sierra would go on to publish ports of several more of their games in the 80's but this was the one that started the ball rolling.
I seem to be playing more than my share of Sierra games but I've been looking for Tandy compatible titles and most of the good ones seem to come from Sierra. They more than any other company were flying the flag for PC gamers throughout the 80's, long before it became a mainstream gaming platform. This was presumably much to the detriment of sales on systems like the Amiga where games like Space Quest II weren't exactly stretching the hardware in the same way as Defender of the Crown, despite both being released in the same year. The Japanese PC gaming market on the other hand had the likes of the PC-88 with an actual sound chip and better graphics. Sierra's port  may have been 2 years later than the original version but it was still a step down in hardware terms.
The box is the typical Sierra affair and makes a big deal on the back of the merits of Japanese arcade games. The manual is actually a folded up poster with a map of the first level on one side and installation/play instructions on the other. I can only assume the plotline was lost in translation as it is barely hinted upon. You control the only Thexder in existence, a dual-armour robot-jet transformer armed with heat seeking lasers. The aim is to destroy the central computer on level 16 of the Forbidden Zone. Why you need to do this or where this Forbidden Zone is we will never know as that is as much plot as we get.
My original plan was to play the DOS version on my Tandy since it has a lot going for it on the Tandy with better graphics and music support. After trying a couple of ports out, I went for the IIGS instead which is a little more colourful, has better audio and most usefully allows you to load from the start of the last level completed. The PC version did appear to be slightly easier but it has you play through the whole game in one life. It's difficult enough as it is without having to keep starting over.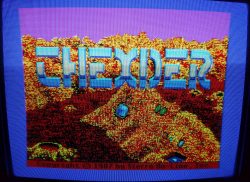 The IIGS version has a slightly nicer title screen than the Tandy, still lacking the animated sky from the PC-88 mind you. It also has some sampled Japanese speech which I don't understand any of except the word Thexder.
The audio reverts into English when starting the level with an unenthusiastic "Warning. Intruder." and the action starts. The game is essentially a side scrolling action platformer in which you simply have to get to the end of each level. There are several things that make it unique, not least the transforming robot you control which can shape shift into a jet and fly around unconfined by gravity.
When in jet mode, firing your laser works as you might expect in any game with the laser coming straight out in the direction you are facing. When in robot form, it quickly cycles between any targets on screen in front of the player. This is both curse and blessing as you can automatically hit from very acute angles but have no control over which enemy is targeted first. If some enemies are behind a wall, your laser will try to hit them anyway wasting your energy and giving enemies you can see a chance to close in.
Another highly unusual feature is that none of the enemies move as soon as they go off screen. This may dampen the realism, such as it is, but you would be constantly swarmed otherwise. Enemies will continue draining your shields as long as you are touching them in this game and getting surrounded is a death sentence.
Firing lasers or getting hit drains your energy. If it drops to zero, it's game over and believe me this will happen a lot. You do have some shields which can be activated to make you invulnerable until they run out (at the cost of 10 energy) but this removes the 100 points energy bonus you receive at the end of every level prior to using it. You start each new level in the same shape as you finished the last otherwise and will need this bonus to stand much chance. In other words, you don't ever want to use the shield except maybe when first learning a route around a level.
There are about 20 enemy types that usually try to move directly toward the player but they have certain patterns like only moving diagonally. All of them have a tendency to get stuck on walls and a staple tactic of Thexder is to lure hordes of these to a narrow entrance so they all get stuck together and then shoot them as a jet from the other side.
Some enemies raise your energy when destroyed, a handful even increasing the maximum percentage you can store (up to a max of 500) but there is never enough energy available. This has to be one of the harder games I've ever attempted to play and around level 3 and 4 I was wondering if it was really worth the effort. I resorted to looking a couple of playthroughs and the enemies in this IIGS version seem to be a whole lot less sticky than others, honing in more quickly on the player. However, I did discover that holding down space (at least on the IIGS) causes the player to stop wherever they are after a couple of seconds. Since the jet mode causes the player to constantly move forward otherwise this allows you to hover taking out advancing enemies. This made a massive difference although I do wonder if it was intentional or not since I've not seen it in other ports.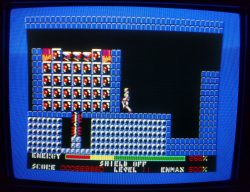 Once I'd learned this trick, Thexder got a whole lot easier after level 4 until I got quite near the end. Some levels are even repeated with slightly harder enemies, meaning I already knew the best route before I started. The numbers of enemies seriously stacks up in later levels with the game able to handle 30-40 at once. The screen above has a whole tank of them that fall on top of unwary players destroying the one block holding them up. It's the open areas that are the real killers though where it's much tougher to control the enemy movement. I only got through levels 14 and 15 with use of the shield and really didn't have much energy left by level 16.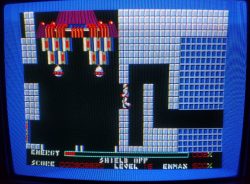 Just as well for me, the final level is a simple blow everything up affair with no real opposition. There is a tile graphic representation of the central computer to shoot, then the game loops back to level two. Not getting an actual ending is a big letdown after a couple of weeks of effort to beat this game but not all that unusual for the time.
It took a while to warm to but I really did enjoy Thexder in the end. It's quite slow-paced on the IIGS and is far more of a strategy game than arcade. Beating Thexder is all about working out how to get through the level without getting hit and there are usually tricks to any situation. Since enemies only move while on-screen, they can be lured out of harms way, or you can approach just far enough to get one or two on-screen at once which can be killed off before they reach you. Many of these tricks require the player to be pixel perfect though. Expect to replay levels over and over early on.  Much of each level can be bypassed when you know your way around but they do need properly exploring to find sources of energy and any secret areas (revealed by blasting away the walls).
The graphics are reasonably nice, if a little blocky and the music that there is excellent. I just wish they had changed this music every level as a brief loop is not enough for a game that takes this much time to finish. The 16 levels are huge scrolling affairs and offer a real challenge to any player. Possibly too much challenge really. I could definitely give Thexder a guarded recommendation but don't expect it to be easy. It could really do with a slightly more modern presentation in truth which may be where the sequel comes in. I'll definitely be playing that in the near future but will have a quick look at the next Game Arts release Silpheed first.