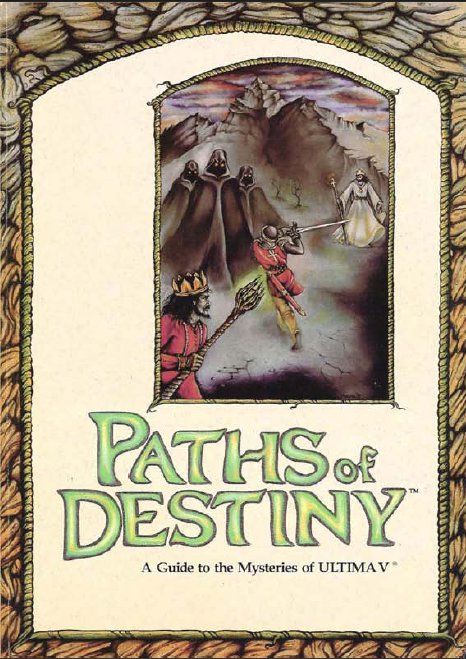 This was published in 1988 by Origin. I seem to remember there being two versions with only the first edition having the colour front cover. Once again this is available to download from http://www.replacementdocs.com. It is about twice the size of the Ultima 4 cluebook, although the same could be said of the game so this is no surprise.
The book starts with the familiar towns and locations section which takes up two thirds of the pages. It's back to overhead views for the maps which this time using the actual graphics from the game. This is more useful for finding your way around, if less atmospheric. This guide also adds the co-ordinates of the town + the shop prices. After this section, there are some new parts offering the sort of detail that was missing in the U4 cluebook. This includes a list of all the unique items and roughly where to find them.
The dungeon maps are next, followed by an extremely useful map of the underworld complete with highlighted locations of interest. This really would save a lot of trial and error searching around the most dangerous part of the game. Finding the three shards without this will take a lot more effort.
The book ends with a brief passage on how Lord Shalineth (the supposed author of this book) attained some of the knowledge within from a mysterious child who appeared in his keep one morning.
Paths Of Destiny addresses the problems I had with the U4 guide and contains the extra bit of information that could help you to get through the game. It does this while still maintaining the pretense of being a guidebook prepared to help the Avatar and has a little more (although not much) background detail to boot. There wasn't a whole lot of extra content for the Ultima fans here though.