I expect most readers will have seen photo's of these already but this arrived in the post yesterday:-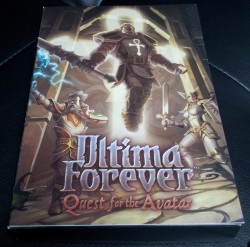 It's the collector's edition of Ultima Forever as shown by Paul Barnett on Youtube last month. These were initially created for the press and development team but are now being distributed to those who took part (or almost took part in my case) in the Ultima Forever Alpha some time back. We've already had a map and set of tarot cards each which was a really nice gesture. I really didn't expect them to be sending out more but could hardly turn down the offer.
There has been a slight snag with the packaging these were posted in and they haven't exactly been arriving in new condition. I'm sorry to say that mine is no different and predictably arrived squashed:-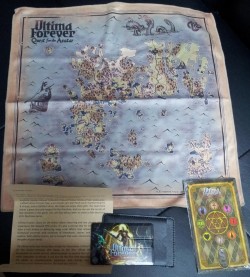 The collector in me hates to see boxes being needlessly mashed like this. The contents at least are pristine with a cover letter, extra large tarot cards, a USB drive credit card (empty) and an all new cloth map with added black weep. The new map material is fantastic quality putting all the older games to shame. It's a really nice package and I wish it had been better prepared to make it's way in the world before being set free but it's another generous gesture on the part of Mythic sending these out at all. I feel well disposed to Ultima Forever already without having had the chance to play it.
Ebay sellers please take note what happens when you put fragile boxes in bubble wrap envelopes. By way of further example, here's what happened to a copy of Kingdom O' Magic I bought a year or two back after explicitly asking the seller to send it in a box. It wasn't worth all that much but I still haven't managed to find another one:-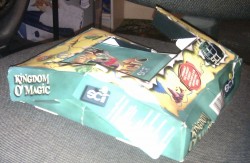 I'll quickly mention that I added a scan of PC Zone Issue #2 at the start of the week. I was going to scan #3 today but instead the Gabriel Knight 2 guide book will be taking its place on the downloads page sometime later.