Since I forgot last time, happy new year! Now that Christmas is out of the way, I'll see if I can't get back to posting a little more often on here. I'm sure I still have at least another year of Origin blogging left in me and I'm not short of games to play on here. I think the main gaming focus this year is going to be Ultima ports and remakes as I have a stack of them lined up and it's been too long since I played anything except the original trilogy.
In the meanwhile, I'm far too occupied with Rocksmith so I'll carry on working through magazine articles. Next up is a review from the February 1998 PC Gamer of Wing Commander Prophecy. The review lives up the tagline and is yet another mauling of the series:-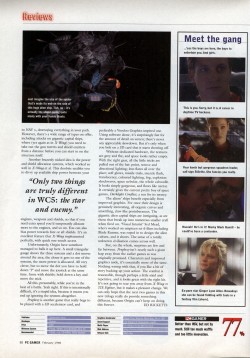 Elsewhere on the Wing Commander front, I see I've been nominated for website of the year on the WC CIC which is something of a surprise, this not being an entirely Wing Commander site and all that. I did play Wing Commander 1 a ridiculous number of times last year mind you. If you feel inclined, pop over there and give me a helping hand toward the fame and glory that awaits the winner.