Loaf got confirmation about the King Kong game being Chris Roberts' first, straight from the horse's (or possibly gorilla's) mouth yesterday. I've got a couple of follow up articles on it from Micro User.
First off the program listing had errors in it. Anyone old enough to remember typing in games from magazines won't be surprised by this as you always ended up having to fix something. It was one of the ways you couldn't help but pick up a bit of programming knowledge if you owned any of the home computers in the early 80's. The correction is below:-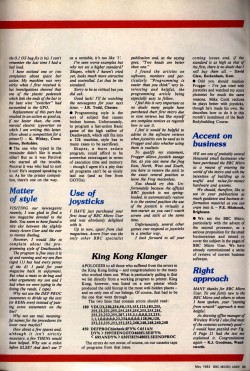 No one actually asked for it, but I'm posting the follow up article on the King Kong game also. This is from Micro User's August 1983 edition. In it the code from King Kong is analysed and critiqued for all the ways it could be improved.