After 24 hours of non-stop webcasting, the Star Citizen fundraising ended at a staggering $6.2 million. It's so much money that they ran out of stretch goals, although it may be an idea to come up with some more as the money is still trickling in on the RSI site and is nearly up to $6.5 million.
It must be a good time for sharing a bit of Chris Roberts' related memorabilia. I don't have much left that isn't on here but there is this proof and negatives for a full page Privateer magazine ad from July 1993:-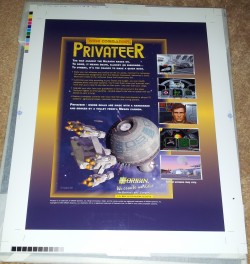 This may well not be the final version of the ad as I'm sure I've got proofs for some other variants with different screenshots and/or a larger background image without the border. I ought to check but it will wait for another post when those other proofs make their way to the top of the pile.