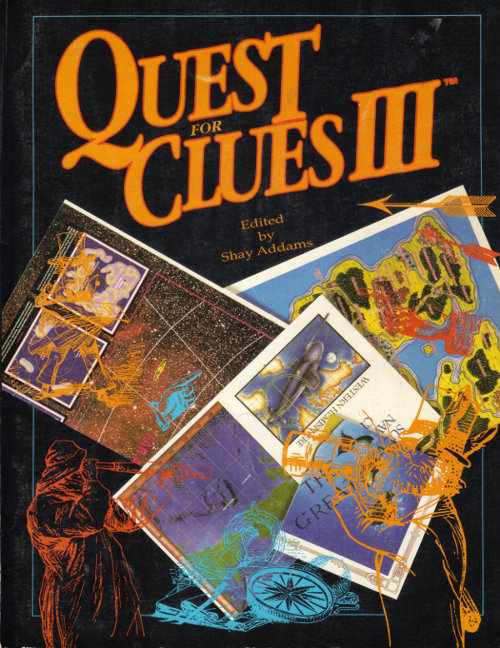 I've made a start on the next Wing Commander book which I should finish tomorrow, but in the meanwhile here is another Quest for Clues. This is number 3, it was published in  1990 by Origin and as ever it's a collection of solutions for various games following the same format as the first two books.
There are quite a few Origin titles included here which didn't get their own clue books such as Space Rogue and Windwalker, along with a selection of many of the better games of the period. I used this book to help me out with Knights Of Legend although it didn't get me through the game half as quickly as I would have liked from what I remember.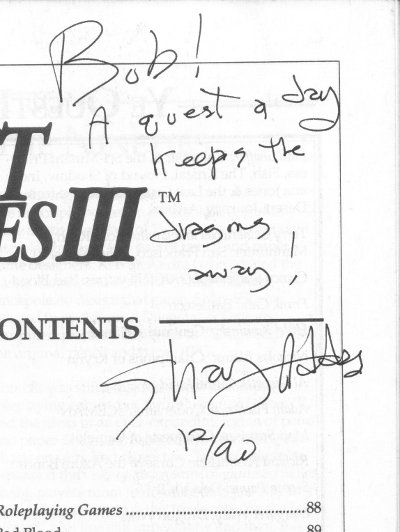 My copy is signed on the inside page by Shay Addams which is a nice extra. I can't imagine it makes much difference to the value but it makes it worth more to me at least. Other than that, there isn't much to say as it's more of the same. I notice that each solution is tending to take up a few more pages than in earlier books as the games get larger and more complex. There is a brief introduction which talks about the changes in gaming in the early 90's but it isn't hugely interesting so I've refrained from scanning it in.
The fact is I'm not going to have a lot to write about any of these QFC books and should probably have done all 6 in one post. I've started now so I'll stick with it though. As with any of these, if you are interested in any particular solution drop me a line and I'll scan it in.