Hello from Austin! After 24 hours travelling, I made it here Thursday night. I had a couple of days of being a regular tourist then met up with the WC CIC crew Sunday and started on the more eclectic Origin activities.
Today was kind of like work helping out archiving the David Downing boxes at the University of Texas. The contents more than make up for the effort, such as a full set of storyboards for Wing Commander 4 :-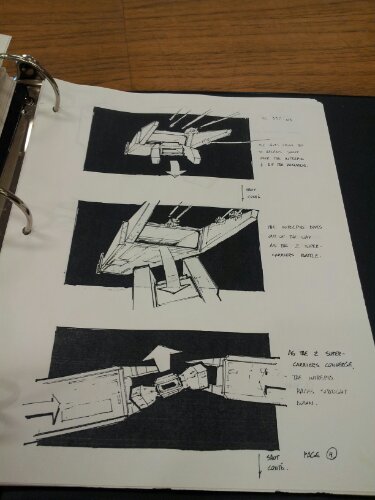 I also got my hands on the Garriott archive and grabbed a full set of photos of the Underworld 3 documents. I didn't read through them but there was way more detail than the story already scanned on here and I'm fairly sure there was a later expanded version. All of this will make it on the site when I get chance to go through it.
I had a browse through the rest of the box for an hour while Loaf took over camera duty. There was a pitch for a space RPG called Terminus which was being developed by Vicarious Visions. It appears Origin were considering publishing this and using the team, game or engine as the basis for Wing Commander Online. One email stated that the game essentially was already WCO and just required a change of story/art assets + faith. That deal clearly never happened but the game was still published elsewhere a year later.
Highlights were Ultima 9 design documents including concept art, details on the Ultima and Savage empire RPG's and two huge folders full of Ultima 7 design documents. If I could have smuggled any of it out it would have to be the storyboards for the cutscenes:-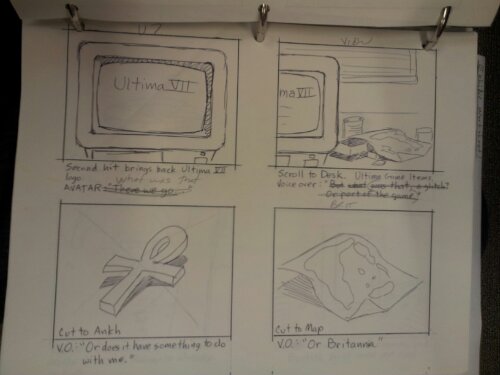 As for tomorrow, after going years never meeting any ex Origin guys I should get to hang out with a horde of them in the evening and will hopefully get to visit Portalarium before that. It's going to be a good day to be an Origin fan!