It is already all over the web so I won't go into detail but this morning we got arguably the biggest news in PC gaming for years with the announcement of Chris Roberts' new space epic Star Citizen.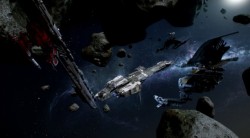 It may only be a year old but the prototype is already stunning and should be enough to part anyone who reads this site from some of their hard-earned to support the fundraising campaign. The website is currently being bombarded but head on over to http://robertsspaceindustries.com when it quietens off to judge for yourself.
As if the game wasn't good-looking enough, Chris also confirmed in later questions that it will support the Oculus Rift. I can only imagine how cool those virtual cockpits would be on that piece of hardware.
I was fortunate enough to be over here for the announcement although that did have the major hitch of being forcibly interviewed on camera far, far too early in the morning after last night's entertainments for me to be able to give any meaningful answers. One of the questions was about PC gaming being back but it clearly never went away. What did go away was PC gaming leading the industry with cutting edge products that demanded continual upgrades, something Origin and Chris Roberts were famous for in the 90's. If this campaign succeeds and proves that demand is still there for this sort of boundary pushing product then maybe PC gamers can once again be the envy of the console crowd.