One of my excursions during my time in Austin was a trip to the Wild Basin Wilderness Preserve. The name should be familiar to anyone who has read the Savage Empire manual and the Origin offices at that time were a couple of minutes away on Wild Basin road no less. The area is a 227 acre nature reserve that was founded in the 1970's on the outskirts of Austin and is now part of St. Edwards University. I could hardly let the chance pass without mounting my own expedition to see if was as exciting as its virtual counterpart and I made it out alive to tell the tale:-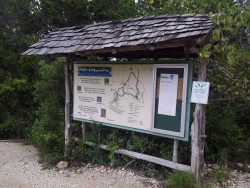 The entrance has a giant map looking at best vaguely similarly shaped to the Eoden Valley. All the cloth maps must have been taken by all the Ultima fans that had ventured here before me so I foolishly pushed on without:-
The only initial danger appeared to be mud and my complete lack of appropriate clothing/footwear but things soon dried out as I reached an escarpment with a sweeping view of the valley.
With spirits high, I ventured deeper into the wilderness only to lose all bearings under the thick canopy. I wandered without direction and had no choice but to press on through treacherous river crossings…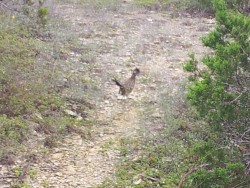 …facing the perils of the native wildlife…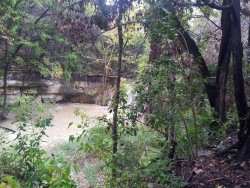 … and after an all too close encounter with an giant lumbering beast from ages past (aka an overweight jogger) found much needed sanctuary in an isolated tropical lagoon. Glad of the respite, I set up camp for a while and recuperated before venturing on.
After many more minutes of arduous trekking through the wild landscape, I climbed to a vantage point to find my bearings. Frome here I could make out the primitive huts of the local tribespeople living on the far hill. I'd heard the bloodcurdling tales of these tribes and with supplies running low decided it was time I got back to civilisation. From the high ground, I signalled to anyone who was available and thankfully my message was received by a local native of the mostly civilised UT tribe called Mike.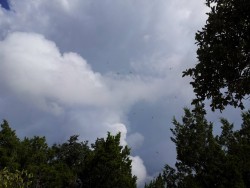 As I made my escape in Mike's primitive rolling carriage, I saw a hoard of terrible dragons (of the fly variety) circling above where I had been but moments earlier. I thank my luck that I made it back from such a recklessly embarked on journey and I hope this tale serves as a warning to future unwary travellers.