I got this 3 mission demo off the May 1996 CD Gamer cover disk. It's described on the start screen as the CD demo and features a 3 mission campaign unique to this demo. It has the full FMV intro from the game before launching into the missions, which doesn't add a lot but does look good.
The missions can be played one at a time or as a campaign. They are set before the start of game and the formation of Strike Force Centauri. The first mission reminds me a lot of the one from the previous demo, only it's shorter and easier. It's more seeking out pirates and having got up to speed on the game already I breeze through this on the first attempt.
There is a bit more to the second mission which takes place at night in a lake filled landscape. The goals are much the same but the terrain changes the tactics needed. At the start of the mission, I have to cross a large lake to a pirate dock. I suppose I could have walked around this, or even waded through it, but I jump jet across straight into the battle. I've got a "wingman" in support this time around who helps no end with this sort of cavalier tactic. Again it's an easy enough mission and I finish it first time.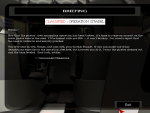 The real challenge comes with the last mission which is an assault on the pirate base. I get an extra wingman which should help but the difficulty here is that the enemy forces are so bunched together and it is easy to get overrun.
The base itself is well fortified with turrets and alarms, all of which are hidden behind dug out landscape. The best tactic in this game is always to draw fire and lead the enemy away from their base in small numbers. After 2 failed attempts, I succeed in this to some extend but the rest of my team is wiped out and I'm left clearing out the base on my own.
Aside from a shortage of cheesy FMV scenes, this showed exactly what Terra Nova was about and it's one of the better demos I've looked at in recent weeks. I've added it the downloads on here for anyone who wants it.
The problem with playing all these demos is that I just get up to speed on a game and start enjoying it and they end. I'll take a break from them at this point for another full game. I've not decided which yet but I can safely say it's going to be an RPG.