Thanks to the aid of Joseph Seeley, part 3 is following sooner than expected and we get to see the end of the game. The savegame he provided already had everything in place required to win, so I spent all my money raising up my HP, rescued the nearest princess and went off searching for a time machine once again.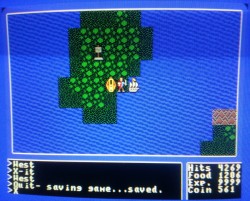 This time it did appear correctly so I've no idea what went wrong with my game. Having now found the time machine, I'm a little wary that my HP is way off maximum still but there isn't anything to lose by giving it a go so I hop straight in.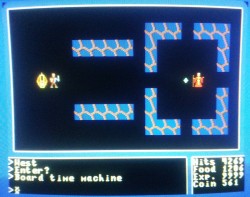 The endgame is instantly recognisable. I'd have thought the final encounter deserved a suitable backing track but it's carried out in silence apart from the digitized effects. I needn't have worried about my HP as the IIGS Mondain is something of a lightweight. Once transformed into a bat, he never even made it out of the little square surrounding the gem and more or less stood still and let me blast him the 7 or 8 times required for victory.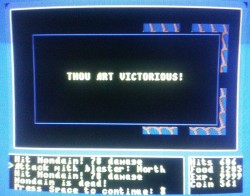 He dies with a slightly inappropriate scream…
.. and the end screen fades in with the familiar text.
Finishing this off took 5-10 minutes so there isn't a whole lot to add. This port has felt a little unfinished at times so I do wonder if there are more complete versions out there which have some of the loose ends tidied up. Hopefully, it will be available for sale again one of these days and I can find out.