Anyone who has ever browsed through the Ultima Ultimate Collector's Guide won't fail to have noticed the amount of Ultima memorabilia that came out of Japan. I don't have any ambitions to try and track all of this down but I have been picking bits up as and when I see them cheap.
One thing that wasn't in short supply for the Japanese Ultima fan was books, with plenty of Ultima games having numerous guides, novels, mangas, etc. I thought I'd scan some of these in for posterity starting with this:-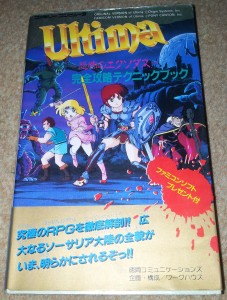 Thanks to the Collectors Guide, I can tell you that this is the Ultima 3 – Perfect Solution Technique hint book, published in 1987 by Tokuma Communications. It's a small paperback with a glossy cover sheet and covers the Famicom version of the game. Since I can't understand a word of it, I can't say much else other than it's in colour throughout and there are loads of pictures along with all the maps you would expect. These little paperbacks aren't the easiest to scan in but it's now available in the downloads for anyone who wants a look.