There has been big Ultima news in the last couple of days with the release of Ultima Forever for Apple devices. If it was out on Android as well I'd be playing it right now but instead I'll settle for it's spiritual predecessor which is Ultima 4, this time on the Sega Master System. Sega consoles were never exactly well represented in the Origin catalog and off the top of my head I can only think of one other Origin game that got a release which was Wing Commander on the Sega CD. SMS Ultima 4 was ported by Sega themselves and came out in 1990, 5 years after the original. It was the last official port of the game on any platform other than the FM-Towns.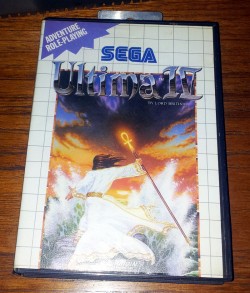 The packaging is the usual sturdy plastic case used for SMS games. It came with a booklet and paper map, neither of which are in the copy I've got but excellent scans can be found at SMS Power. The manuals are basically smaller versions of the Apple II originals which is in stark contrast to the NES game which included a full guide to beating the game.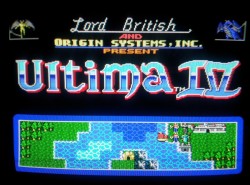 I've played 3 Nintendo Ultima games so far and for all their good and bad points it's fair to say that they have been a departure from the original source. Right from the start it's clear that this isn't going to be the case on the SMS and it is as true to the original as is possible. The graphics are a huge leap forward however and arguably better than those on the PC VGA patch. The original music is used throughout which is great for the traditionalists among us.
The full intro is present and looking as good as on any system I've played the game with the virtue cards being especially clear and colourful. I go for my usual route of playing a fighter which should help to a degree in the early stages.
Ultima 4's myriad of key commands have been compressed down to a menu based system which is intuitive enough to use if a little slower. Conversations are handled in an Ultima 7 style with a selection of keywords where I'm not allowed to ask about anything I've not learned elsewhere. This is going to force me to play the game properly learning every clue and mantra which will be a novelty. As far as I can see, every conversation and person from the original game is present and correct and any differences if they are there are minor.
I may be forced to relearn all the mantras and clues but a little prior knowledge still comes in handy in this game and I'm soon collecting all the things I need to win the game. I briefly grind away on one of the guard conversations raising my humility and I'm ready to gain partial avatarship in that virtue in next to no time. This appeared to be way, way easier than on the PC version as I only went through the conversation maybe ten times. I have far less luck trying to raise my sacrifice by gifting gold coins to the beggar in Britain which curiously has no effect at all. I'll have to try some alternatives.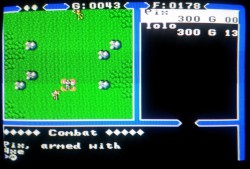 Combat is where the first real change to the gameplay shows up as it uses the same system as Ultima 5 with attacking on diagonals allowed and any angle of attack using a range weapon. This does have the effect of slowing things down and it could potentially be worse in that regard than PC Ultima 5 with the option menu adding in an extra delay. The menu does default to attack which is going to be the most used command but with the hitch that it often makes strange choices on which monster to go for after this. The game really does love to select monsters that are out of range which may not be a problem when I get my party fully equipped with bows but is an issue right now. With a party of 8 I have concerns that combat could end up being extremely slow and I'm tempted to try to keep my party size down.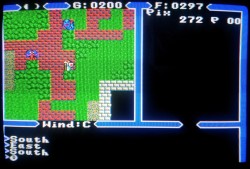 The combat is definitely not easy and starting this game is proving to be tricky. After breezing through NES Ultima 5 I think I've got a little too used to being mollycoddled. Here I've died numerous times already and really should be hanging around Britain taking advantage of the free healing and trying to raise funds for some decent equipment. That will be the next job on the list as so far I've just been getting ahead of myself running around the world exploring the towns.
I've not played for long yet but I'll probably not have a huge amount to say about this port even when I have with it being so unchanged. It could well be the best version of the game I've played depending on how the dungeons work out but I expect it will require quite some time to play through.
Given how well the few that were ported turned out, you have to wonder why so few Origin games made it onto Sega consoles. Ultima 4 did come out relatively late in the SMS's lifespan which certainly won't have helped sales. It's 1990 release was long after the Genesis had become available in the USA in January 1989 and the NES had been dominating the market prior to this. The SMS had far more of a market base in Europe though and since us Europeans had to wait nearly two years more than the USA before the release of the Megadrive this will have been a large factor in SMS Ultima 4 mainly being sold in Europe and relatively few copies ending up in the USA.