I only set out to level up a bit but I ended up finishing Ultima 5 last night. I wandered round a couple of dungeons clearing out monsters for a while but it wasn't all that entertaining so I figured I may as well clear out Shame to get a nice easy path to the final Dungeon Doom.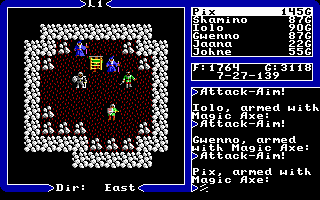 This is the first room of Shame and there is nowhere to go. A lot of axe throwing at walls and eventually I find a way out.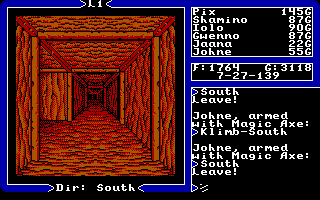 Shame once again has new graphics for the dungeon, and looks like a mine. The dungeon doesn't prove to be particularly difficult even with my low level party. I get down to level 8 in no time and use a des por spell to exit out into the underworld.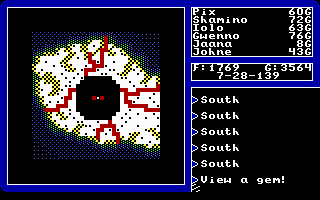 Once out I make my way to the center of the underworld. There is a large area of darkness here as seen in the above gem view. Using the amulet of Lord British clears this enough to see the entrance to the dungeon. I yell veramocor, rest up and head in.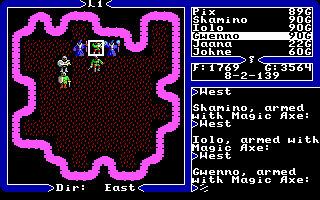 I really don't expect to have a change of making it through here but I figured I could clear out some rooms of monsters, get some experience and try again later. The first room has no exits. I have to use the sceptre to dispell some fields on one side. Doom is much harder than any of the other dungeons and very maze like. Despite this I get down to the lower levels pretty quickly and start to get the idea I might just finish the game with this party.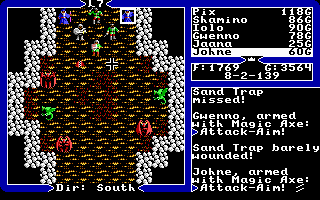 Just when I thought it was easy I hit this room. Dragon, demons and giant mouths in the sand. The ladder is under the monster in the middle. To escape I have to kill it, then take all the treasure it drops before the ladder is visible. I use a load of negate time scrolls here and manage to get 3 of my party through alive. This takes me straight to another screen full of dragons. I negate time again and make a dash to get out. By the time I do only the avatar is left alive.
 Even though I've only got the one level 5 character I push on. There aren't all that many rooms I have to get through now and using the last of my negate time scrolls I actually make it through to LB.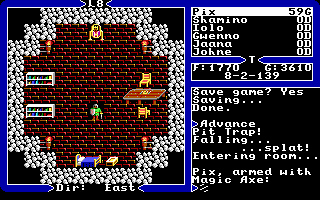 LB is trapped behind the mirror. I walk upto it and get sucked into the mirror image.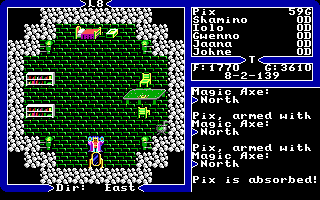 He asks me if I brought his box (and thankfully I did) and then takes his moonstone out of it and Britannia is saved.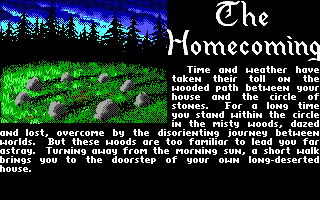 I'm sent straight home without really finding out what happened but this is all covered in a nice endgame sequence.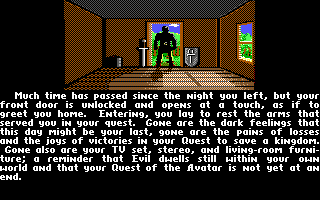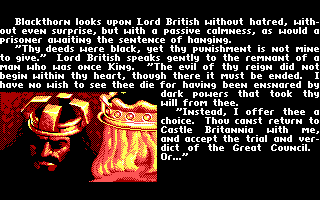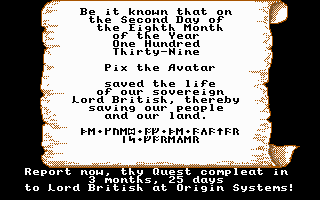 Blackthorn is banished, Britannia is saved and I'm back home again. I'm really surprised I made it through Doom. My party was level 1-3 with a level 5 avatar. I really needed all those negate time scrolls I got robbing the treasury at the start.
Now I've finished the game, I'd say it improved on almost every aspect of Ultima 4 but I really didn't enjoy it anywhere near as much. This engine and gameplay really was taken to the limit with this game as far as I'm concerned and a new approach which we got in Ultima 6 was definitely needed. The combat is a bit too slow and difficult for my liking – the fact I got a single character through to the end of the game is interesting – I really think the game would be more fun with no party and it would speed up combat no end.
Next: Times Of Lore