This is a review of Ultima 8 from the June 1994 PC Zone. The reviewer describes it as a love/hate sort of game which I can agree with falling more into the hate camp myself. He was clearly reviewing the first unpatched version and was suffering with the platform jumping.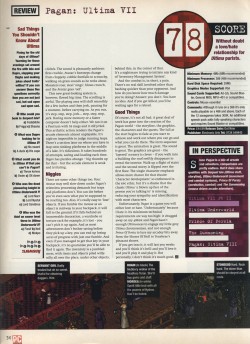 I should have had more updates over the weekend but I've spent a crazy amount of time getting my Win 98/DOS machine up and running. I've got it dual booting into DOS 6.0 now, and have my AWE32 and SBLive coexisting inside Windows. I've also managed to get it wired up to my MT-32 and SC-155 via the AWE32. This isn't ideal as it requires a TSR to process the MIDI in DOS but it works in most games. My USB keyboard causes glitches in DOS resulting in slowdown, or hanging/crashing. I've now given in on that and have just got a second keyboard which I swap to as needed.
I found an ancient serial ball-mouse which seems to work ok – first time I've used one of those in a very long time. I ought to get something a little better in the long run though. When I use it in Windows I keep finding myself scrolling a non-existent mouse wheel.
I've still got some problems in DOS. EMM386 refuses to load no matter what. I've tried excluding the entire possible memory range and still no luck. I've got QEMM 7.5 running but that is struggling as well as if I load QEMM itself into high memory it locks up. Any advice on that is welcome. I'm thinking that a newer version might be enough. With the tiny cd and mouse drivers I've still got plenty of free memory so I'm probably ok for all games except those few that insist on EMM386 anyway.
The only other problem I noticed is that I don't appear to be able to redirect the MIDI of DOS games in Win 98 to the MIDI-out and I'm stuck with playing them through the AWE32. Not sure if I'd ever run into an occasion where this would be a big issue but it does rule out running some DOS games inside Win98 if I can't fix it. I expect a poke around the registry might be needed. Other than that it appears to be working well but I've only quickly tried a few games. Highlights so far are playing the first level of Dark Forces and a quick blast on the 3dfx version of Carmageddon.