I'm slightly late to the party but Ultima Online turned 15 last week which is as good an occasion as any to post a couple of items I picked up from Rhea last year. While I'm more than glad to have them, these probably should be in the hands of a real UO fan as I'll confess that it's still not a game I've ever played or know very much about. I do intend to put that right one of these days but it's not going to be for a while yet.
This first item was Rhea's award for helping the game reach 200,000 subscribers which I guess would date it to about 1999/2000. According to the manufacturer's label on the bottom, it was made by Renaissance Glass in Austin. The engraved glass part looks fine and I have no issue with it but I'm less convinced about the fossilized critters base that it sits in. It must be one of the rarest Origin collectibles I own but this still doesn't make it the most attractive objet d'art to have sat on top of a bookcase which is where it's been living for the last 9 months. It wasn't easy to take a decent photo of either, I tried with and without flash and can't say I was happy with either.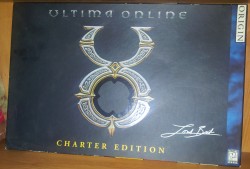 Far more aesthetic if you ask me is this copy of Ultima Online Charter Edition. This version of the game was only available for direct pre-orders and was the same as the regular edition except you got an extra two months subscription, a few added extras in the box and of course the box itself was ludicrously large and signed (in print) by Lord British.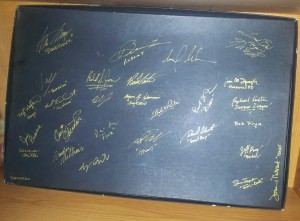 This would be a nice enough collectible to have on the shelf but what makes this one better still is that it has been signed on the back by many of the people behind the game. I won't go through the whole lot but it's got Lord British, Raph Koster, Bob White and more than 20 others. I can decipher most of these signatures but a handful have me stumped. I would have thought Blackthorn up in the top left should have been Starr Long for instance but if that's what it says I'm not seeing it.