Nearly a month after starting, Skyrim continues to eat up all my gaming time with no ending in sight as far as I can tell. To keep things ticking over on here, I thought I'd dig out another of the Japanese cluebooks.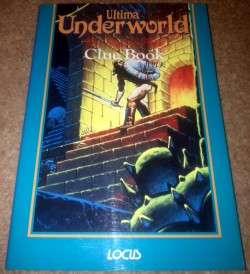 This was written by Tetsuo Kanai and published by Locus in 1994. Like all of these Japanese collectibles, there isn't a whole lot I can say about the content not speaking the language. It appears to be thorough racking up just under 160 pages with loads of close-ups of specific map areas to highlight where to go for various quests but what usually makes the Japanese books fun for those of us who can't read them is the unique artwork. This particular guide is largely textual but each chapter does have a little Underworld cartoon at the start all of which I present below:-
A quick appeal before I go. After wanting one for years, I've got my hands on an Apple II this week in the form of a IIGS that has spent its previous days being used in a school. The first thing I did with it was see if my CPC Ultima disk would boot up and shockingly it does still work after 33 years. I'm only in black and white until I build myself a SCART converter cable for the monitor output + I'm waiting for a CFFA3000 flash drive from dreher.net so I'm not quite up and running yet but will definitely be playing a few Origin games on this thing over the coming months. Which brings me to the game that I'd really like to play on it which is the IIGS port of Ultima 1 published back in 1994 and sold by mail order until relatively recently. The snag here is that I can't find a copy anywhere and believe me I've tried. I've even attempted to contact one of the authors Rebecca Heineman to try to buy it direct from the source as such but with no response so far. If anyone out there has any idea of where I could locate this, I'd be extremely grateful.