This will be a short post, partly as it was a short demo but also because I couldn't grab any screenshots. The WC3 Demo is available from WCNews, although I got my copy off the January 1995 PC Format coverdisk.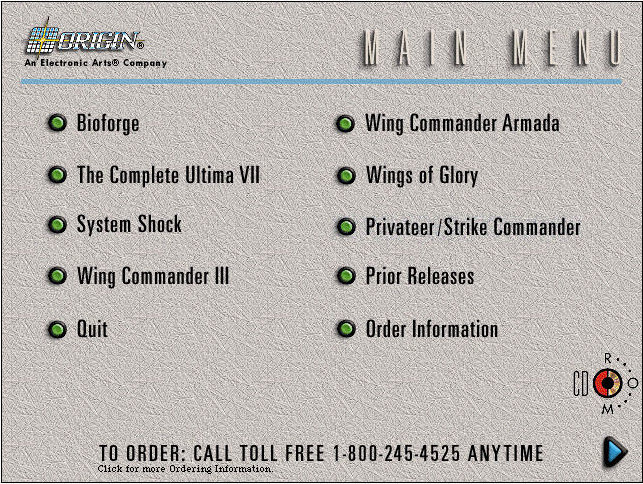 This came with an electronic Origin catalog which isn't in the WCNews download so I've uploaded it here for anyone interested.
This has sales pitches and screenshots for loads of Origin games including Wing Commander 3. The catalog is a windows program but wouldn't run on 64 bit Windows 7. It ran fine on my Windows 98 machine however, which is what I ended up using to play the demo.
Running the demo at all proved to be more difficult that I expected. It started up in Dosbox but crashed as soon as the initial speed test was finished. I tried tweaking memory setting and cpu types without getting anywhere. I had the same problem running it from the command prompt on my Win98 PC but it did run ok if I exited to DOS mode. The snag with that is that I haven't set up sound drivers for DOS as the hardware in that PC is just a little too modern. I ought to follow Loaf's example and set up a DOS machine at some point. I've got enough old hardware around here to knock something together without spending any cash, but it seems like overkill for the sake of a demo + I've not got room for a third box. For now, I took the easy option and played without sound.
The demo is in two parts. The first is a rolling movie of clips from the FMV. I didn't spot anything new in here although I was watching it without any sound. The FMV was stuck at the top of the screen instead of the middle but I'll blame this on my video card. Pressing escape brings up a demo mission.
The demo mission is nice and simple and just involved fighting a load of Dralthi in an Arrow at a single nav point. There are enough of them to be something of a challenge and it shows off the game engine well enough. Other than a message popping up telling me when my missiles had hit or missed, I didn't notice much difference to the final game.
Playing this mission meant dusting off (literally) my Thrustmaster joystick which turned out to be far better behaved in DOS than it had been when I was trying to play Longbow 2 on the same machine. There was no drifting at all and it was as accurate as I could have wished. Another reason to build that DOS machine maybe. There is something incredibly retro about using one of these old joysticks that needs real force to move around.
After clearing out the NAV point, the demo returns to looping the movie so the whole demo only takes minutes to get through. It certainly leaves you wanting more and back in 95 persuaded me to buy WC3 the moment it came out even though my PC wasn't up to the job.