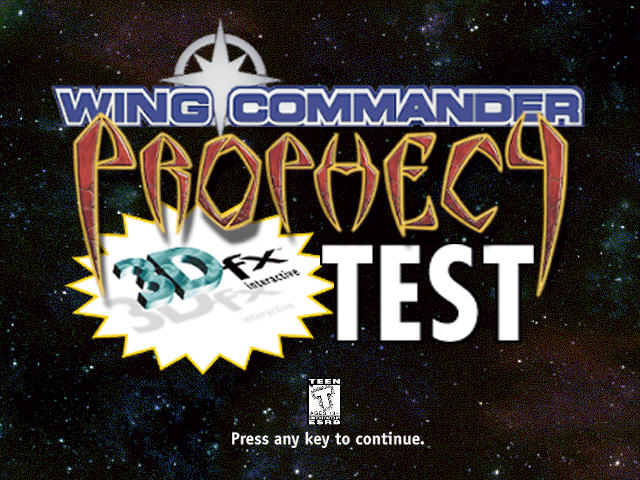 I thought while I had my Win 98 machine connected up, I ought to have a go at the Wing Commander Prophecy demo. There are actually two of these of which this is the first. It was released as a 3dfx hardware test for an early version of the game engine. The demo is 3dfx only so it needs Glide in some form to run and can be downloaded from WCNews.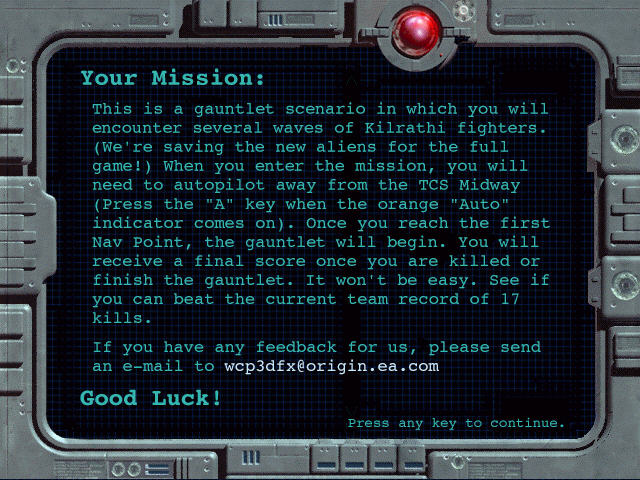 It's a fairly simple demo with no FMV and consists a 5 minute gauntlet against Kilrathi ships. On the intro screens it states that the best score any of the testers achieved was 17 kills, although the readme file says that one of them had since got this up to 24.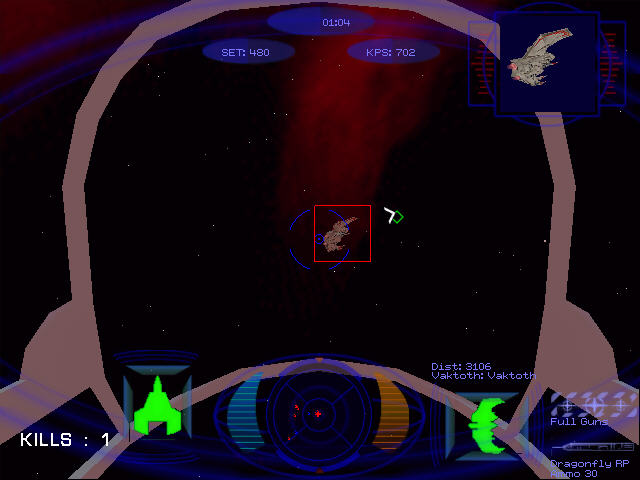 The mission starts off at a slightly different looking Midway with a few quick video messages to set up the scenario before I autopilot to the nav point and get stuck in. It has to be said the engine does still look good although it's less polished than the final product was. The nav point marker is a couple of white lines and the space background doesn't look quite right among other things but the gameplay is all there. I'm up against a never-ending stream of Vaktoth's, Dralthi's + another Vaktoth being flown by Thrakhath (which is actually easier to kill than the others).
I found the demo to be fairly unstable and my PC kept locking up and needing rebooting so I only actually played through the once. I'm sure this is my PC and not the demo. Most of the components are from one of my old PC's which wasn't running too well at the time I upgraded it. I've been underclocking it to keep it running which had been working but it looks like it's on its last legs now. I'll have to track down the faulty part and swap it over the holidays.
Aside from the crashing, I had a great time playing this. It's frantic action with no holding back in an attempt to get as many kills as possible. I didn't realise it until it happened but you get a second set of missiles after 15 kills. I wouldn't have held back on my missiles so much if I'd known. The other tactic I'd try differently is to send my wingmen home at the start. They tended to drift away from me taking Kilrathi with them, leaving me wasting precious time afterburning to the next fighter when I'd cleared my area.
I still managed 18 kills, beating the initial target at least. I did have a screenshot to prove it among others but apparently missed copying most of the jpg's onto my phone so this post is a little lacking on pictures. If I can get 18 kills on my first attempt, the testers can't have had much chance to try this out when the splash screen was created. If it didn't keep crashing I'd have gone for the 24 kills which would be far more challenging.
I wasn't a huge fan of the movie segments on WCP when compared to WC4 (although I've heard they nearly didn't happen at all), but the gameplay still stands up brilliantly and I could have spent ages trying to up my kill score. Any WC fan should have a look at it and I'll probably be going back myself when I get my PC fixed up.
A couple of bits of news to finish. First off, Amazon Canada have cancelled my pre-order for the Wing Commander Academy DVD set for the creative reason of not being able to get hold of it yet. I presume this is happening to everyone who pre-ordered. I suppose I'll place my order again and go to the back of the queue.
Much more importantly, my parcel of Origin bits and pieces from Rhea Shelley has arrived just in time for Xmas. I don't know if I simply got lucky or British customs officers were showing some Christmas spirit (not likely) but it got through without any added VAT. I'd been steeling myself for a huge bill, so this is a welcome early Xmas present. There is still some shop posters and the like which were too large to send regular post which will be following on in a month or so but it's the bulk of the value. I didn't buy any of the games which are currently up for auction on Ebay for anyone who wants them, with loads of shrinkwrapped copies of Origin titles among other things. I might have a go at one of them myself if it stays cheap but I've got other plans for the money I just saved.
In the meanwhile, I've not had time to even open the parcel yet and may not get much chance to start going through it all until boxing day. I won't be posting again before then so happy Xmas to all.