I usually like to keep this site strictly on the topic of Origin but I was asked the other day about magazine scans relating to X-Wing and this sounded like a good excuse to search out some articles on one of my favourite games. I expect a lot of other Wing Commander fans will have fond memories of the X-Wing series as well so without further ado here is a review of X-Wing from the May 1993 PC Review:-
And another from the May 1993 PC Zone:-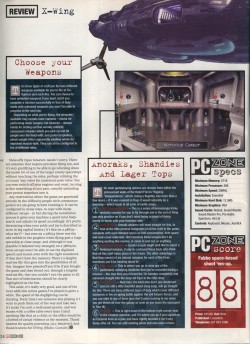 Moving onto Tie Fighter, this is from the October 1994 PC Games magazine:-
And one last review from the September 1994 PC Format:-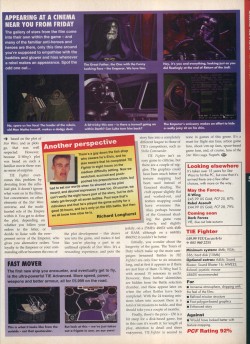 While I'm off topic, I don't imagine that many gamers can have missed the recent buzz about Kickstarter being used first by Tim Schafer to fund a new point and click adventure and then by Brian Fargo for Wasteland 2. Anyone who knows me at all wouldn't need to be told that I've contributed to both of those. Further to this, it was announced on Tuesday that there will be a Kickstarter campaign to fund a new Tex Murphy game starting up in a couple of months. I've been waiting for that particular sequel for 14 years and the only question is how much money I'm willing to throw at it.
I'd like to give a quick mention to another much smaller Kickstarter gaming project. Sherlock Holmes Consulting Detective was a series of FMV based adventure games that started right at the dawn of the CD-ROM era long before games like 7th Guest actually persuaded us all to get the required hardware. The original developer wants to remaster these for modern PC's and iOS/Android and is trying to raise some funds.
I can't say I've ever actually played any of the original games but as one of the few fans of FMV and someone who has read their way through every Sherlock Holmes story I've been intrigued by them since seeing the original reviews. The project is after a fairly small amount of money and you get 9 cases (originally sold as 3 games) for an investment of $9 which looks like a good deal to me. I have a strong suspicion that it won't get the required funding but if it sounds like your sort of thing head on over to Kickstarter and prove me wrong.