I'm not in the habit of advertising on here but I've been given the chance to buy some more Origin memorabilia of the sort I've been slowly posting on here in recent months and the fact is I need money and plenty of it. I've already posted a splendid Bioforge standup store display on this blog. Let me introduce his twin:-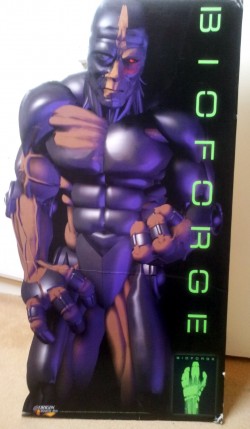 It has to be said that this Lex looks more world-weary than his brother but he would still make a seriously nice addition to any collection. He's about 4.5 foot tall and I'm selling him on Ebay for the lowish starting price of £39.99. The airport fees alone on the parcel he came in(without shipping or VAT) were more than double that and I can more or less guarantee you aren't going to find another in the UK. Any money I make, along with plenty of my own cash, will go towards more Origin development doc's and the like which I'll share on here in due course.
I'm not convinced I'll get any takers but if you are in the UK and feel the need to decorate part of your house with a meter of cyborg, and I can't think of reason why you wouldn't, then a bid or two would be greatly appreciated.