I have my freshly delivered VFX-1 sat here which I'm dying to try out but unfortunately I have some work and other things to do before I can start setting it up. I should hopefully manage an hour or two tonight and might post my first impressions tomorrow. In the meanwhile and by way of filler, I thought I'd post this VHS tape of demos for 3 Origin games.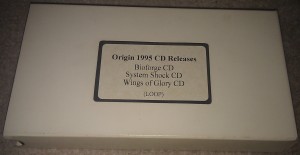 The tape has gameplay videos of Bioforge, System Shock and Wings Of Glory which loop over and over and was presumably used in either a store or show to market the games. I've uploaded a complete loop to Youtube but I didn't spot anything unusual in there so it's not the most exciting viewing. It is at least relevant for today since two of the games are supported by the VFX-1 and I hope to try them out later.
The tape includes the entire end sequence from Bioforge, which is surprising as I would have thought was something of a spoiler to people you were trying to sell the game to.