It wasn't without difficulty but part 3 of my Caverns Of Callisto longplay is complete:-
The last level was tricky in its own right but the biggest headache was caused by the straightforward task of picking up the ion drive. It was at the bottom of a little hole that my jetman insisted on skipping over every single time I tried to fly down it. In the end I tried swapping to joystick control as a last resort and much to my surprise it did make steering around a lot smoother. Whether it's an emulation oddity or the game genuinely supports analog joysticks I don't know but it allowed for slower flying and I could complete the game this way. A HOTAS joystick with a range of movement that is clearly too large even for flight sims isn't ideal for this game but it also made it easier to stay alive so was of double benefit.
I finished off my map before playing and part 3 is below:-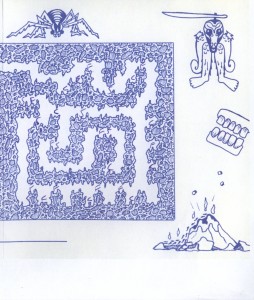 The first time I played this game four and a bit years back, I wondered how anyone was ever expected to finish it but there was less of a challenge that I expected to be honest. With the finished map I reckon I could have a good shot at completing in one go now, but I'll spare people any more videos of me playing 30 year old games for the moment. I doubt it's made for rivetting viewing as it is but I've enjoyed myself at least.
Caverns Of Callisto is clearly no classic and can hardly justify the pricetag on its gameplay alone but it is a fun little arcade shooter for 1983 and deserves better than just being left sat on a collector's shelf.