Vecalabeth is on hold before I'd barely had chance to start as due to a couple of bugs with the Vectrex32 cartridge (including one to the firmware updating), all of the cartridges are being recalled for repair. That's a round trip to the states and one to two weeks in the post each way. Plenty of time to play another old game or two but first I've got another bit of hardware to try out.
The BBC Master has made an appearance or two on this blog before, not least for a playthrough of the first couple of missions in Elite some months back. One thing that has always bugged me about it, is the fact that the Master is incompatible with a very large portion of the BBC games library, near enough all of which were originally written for the BBC Model B. I'd say about 30-40% of the games I've thrown at it haven't worked and they are often the better ones for the system.
Thankfully there is now a solution and it doesn't even cost all that much. For £20, RetroClinic.com sell a switchable operating system ROM which allows you to use a couple of variants of both the BBC Model B or the BBC Master system ROM's. This doesn't guarantee to get every game working since the two BBC machines are after all still different but it's apparently near enough everything which will do for me.
Installing is simply a case of slipping in a new chip and bolting the switch onto the case where the modem lead would be if I had one installed. It's a very quick and easy installation process attemptable by anyone unless you are unlucky enough to have one of the few machines with a soldered in ROM chip. What took me far longer was figuring out how to get my SD drive working in Model B mode (Tip: *CARD on the command line swaps you from the disk drive to the SD card).
With that worked out, my BBC has now run every game I've tried on it and I've been having a great time trying some of them out. It's a system with a bad reputation for games quality but it's not entirely deserved as it was always capable. The problem it had was the high price point keeping it from ever being mass market outside of schools. As such the library of games was small and the best developers tended to write for systems where there was clearly more money to be had. There are still worthwhile games on there and it's certainly nostalgic for people who used these in school like myself.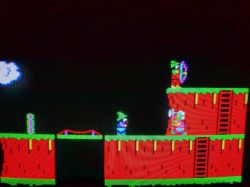 Plenty of developers got started on the BBC whatever its faults including coincidentally the two biggest names at the moment in space sims, Chris Roberts and David Braben. Prior to this, the only Chris Roberts game that I've managed to run on the Master was Stryker's Run which was one of the rare titles with a BBC Master enhanced version. Now all of his earlier games work including his first release of note, the cute but infuriatingly difficult Wizadore above. Comparing this to Star Citizen, we've certainly come a long way in the last 30 years although he did knock the games out a bit quicker back then.
I wouldn't be half as interested in having all this old hardware without some of the modern upgrades that are available and this ROM kit is a prime example. For the sake of £20, it's a compulsory upgrade for BBC Master owners as far as I'm concerned and I'm looking forward to trying out some more of the BBC library at long last. I only heard about this last week or I'd have bought one the moment it came out.
While I'm posting, there are two Wing Commander fundraisers going on. First off, possibly the worlds most famous Wing Commander fan, Ben Lesnick is running a GoFundMe campaign to buy all the artwork used for the Wing Commander Academy cartoon series with a view to scanning and preserving it all. This campaign is going extremely well and may well be funded by the time I post this.
More needing of the money right now is George Oldziey's Kickstarter for a second Wing Commander orchestral CD. The first one of these turned out great and I'm certainly up for another. It could do with some more backers as funding is only about a quarter of the way there after 10 days. I'd expect it to be close at best as to whether this reaches the target.