I'm finishing off the week with the first in the series of Ultima comics. There were four of these manga's published in Japan by JICC, this one is titled "The Terror Of Exodus" and came out in 1988:-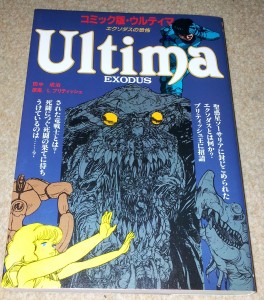 As the title suggests, it's based around Ultima 3 although you may start to wonder when it jumps to outer space after the early colour section. Also, the ending would be more in keeping with Final Fantasy with planets/moons crashing together and giant monster battles so epic they won't fit on one page. It certainly looks like fun and the artwork isn't bad on the whole. Like all this weeks books, I only wish I could read it.
It wasn't the easiest to scan but it's now in the downloads for anyone to take a look. On the offchance anyone wanted to use this to do a scanlation, please don't feel the need to ask first.
The Japanese Ultima 3 well hasn't quite run dry yet, but that's the end of the week and I'll stop here for now. I definitely need a break from scanning and am long overdue another playthrough on here, so next up (and assuming it will run), I'll be having a go at Space Rogue for the FM Towns.