Japanese Ultima 3 week continues with the first in a series of 3 gamebooks published in 1988 by Futabasha. I'll take the word of The Ultima Collector's Guide that this is based around the storyline of Ultima 3 but I have no idea how closely it follows the plot. Confusingly for us Westerners, it is printed in reverse with the cover and page 1 being at what I would usually consider the rear of the book:-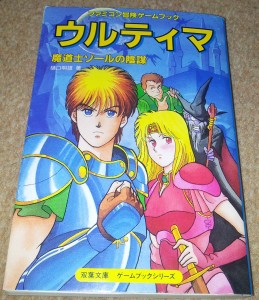 For those too young to remember, gamebooks were something of an 80's craze and typically worked by giving the reader a choice to make at the end of each passage. Each choice would give the number of another passage which they would turn to and so on. Some form of stats and dice rolling was usually involved as well but most people I knew ignored this and assumed they won every roll. I read dozens of these things as a kid with my favourites being Fighting Fantasy, Lone Wolf, Steve Jackson's Sorcery and Grail Quest.
Unfortunately I can't read this one, as much as I would like to, given the language barrier. It does have plenty of full-page black and white drawings scattered throughout at least which I created a gallery of below:-
I've scanned in the full book which is available in the downloads.