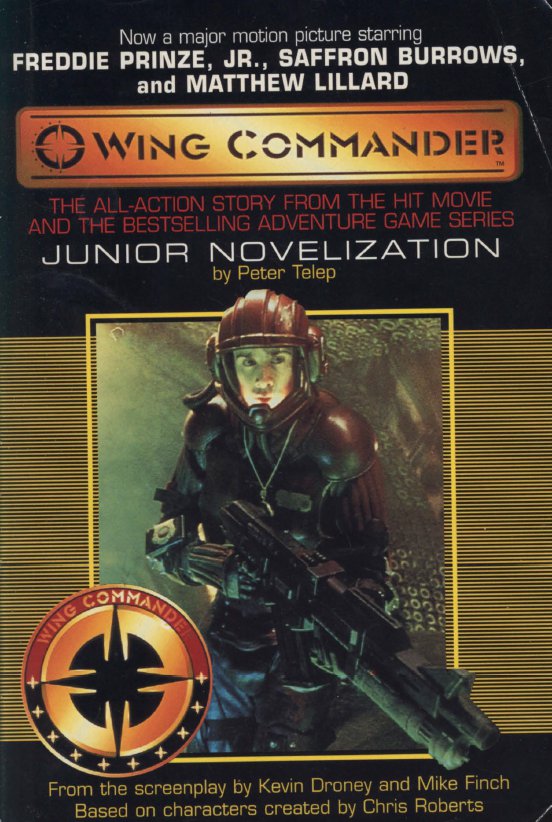 This book was a censored and simplified version of the original Wing Commander movie novel aimed at a younger market. It was published at the same time as the adult version in 1999 by HarperEntertainment and made child-friendly by the original author Peter Telep. Aside from the changes in content, it was printed in a larger format but with far fewer pages, due to the cuts and simplifications.
I would usually read any of the books before I put them up on here, but I've made an exception in this case as I'd prefer to stick to the original version. I was curious as to the sorts of changes that were made though so just looking at the first page for instance:-
"He looked past the whirlpool of gases, past the black hole lying at the quasar's core like an interminably deep maw, until his inner gaze rested on a gentle blue orb bathed in a soft glow."
becomes:-
"He looked past the whirlpool of gasses, past the black hole lying at the quasar's core like a giant mouth, until he imagined a glowing blue planet called Earth."
The same character thinks about friends rather than bikinis in the next paragraph, and fails to give his reason of needing a leak when he asks his buddy to cover for him. Clearly anything even slightly suspect has been removed. There are plenty of word substitutions also to simplify the language used.
If the first page is anything to go by, there are far more changes to the prose than I expected actually. I presumed it would just be a few cuts of the racier parts of the story. The whole book is scanned in for anyone curious to have a look anyway but I'd much rather read Pilgrim Truth first myself. I had a few days away in Wales last weekend and was going to read it on the train journeys there and back, only to discover my ebook conversion hadn't worked too well on the trip down. Instead, I'm halfway through an Anthony Burgess novel now which I intend to finish before I start on anything else.
In the meanwhile, I've added a pile of other new scans including guides to Tex Murphy Overseer, Alone In The Dark 1 & 2, Tie Fighter, X-Wing Alliance, The X-Files and Lands Of Lore 3. There are still more to come but I really am down to the last few now.