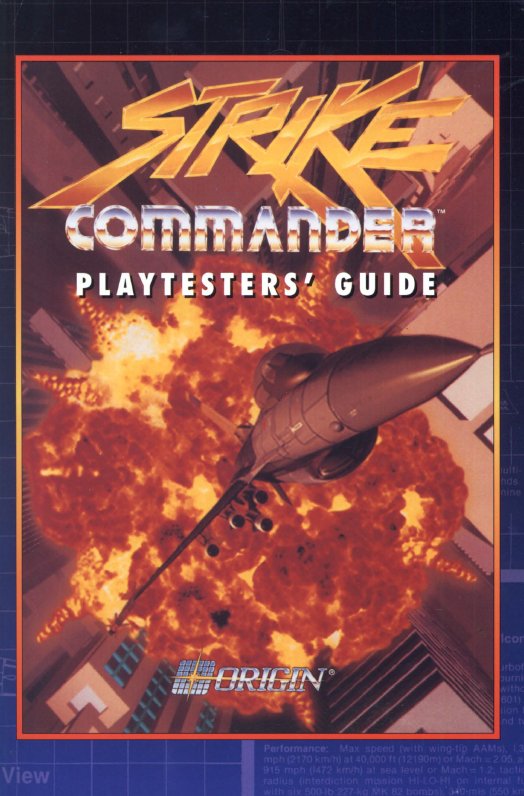 This was published in 1993 and is now pdf'ed and linked from the download page. Strike Commander is a game that warranted two official guide's it seems and this is the first and by far the smallest of the two. It's printed in two colours adding blue to the usual black and white, which makes all the photo's dotted throughout the book look that little bit nicer.
As for the content, it's what you would expect for one of these playtester's guides, which means it's light on backstory and heavy on the tactics and technical details. The majority of the book, is taken up with the mission specifics, which usually give several possible approaches for each mission and the tips are attributed to a specific playtesters. I do like this way of presenting tactics as there is always more than one way to approach a mission and you can just pick whichever suits you best. All the testers get a short bio + photo at the end of the book.
Strike Commander is a game I struggled with. Sure I made it to the end, but I never actually felt like I knew what I was doing. I'd have taken all the help I could get so maybe I should have used this book at the time. What isn't covered in here are the basic manuevers as these were in the original manual. Paying more attention to these would probably have helped me more than anything else.
If you are a flight sim novice like myself and you feel the need to play Strike Commander, this should make things marginally easier although I don't think it addresses my main problem which is an inability to fly jet simulators. I felt far more at home in the later spin-off games where the planes regressed to propellers and everything happened at a more sedate speed.