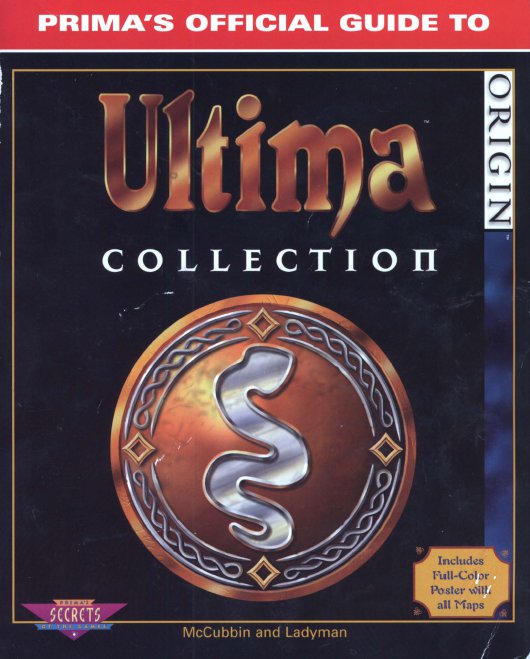 This was published in 1998 and is available as a pdf on the downloads page. It's a guide to every single game in the Ultima Collection which is a lot of ground to cover. This means that it has the only printed solution to Akalabeth that I've ever seen, although it doesn't cover many pages for such a simple game. There are also guides to Ultima 1 and 2 which never got their own at the time + the walkthroughs that came with Forge Of Virtue and The Silver Seed.
For the rest of the games, most of the content is straight out of the original cluebooks. There are a few differences in how they have been arranged, and I notice that the ASCII maps from Ultima 3 have now been replaced with symbols instead which makes them easier to understand. There are also extra sections with gameplay tips and full walkthroughs which were conspicuously absent for the older games original cluebooks. These are brief no-nonsense affairs to get you through the game as quickly as possible.
The book came with a tear out colour map in the middle pages, which I've put at the end of the pdf. It's far too large for my scanner so I've badly (and I do mean badly) joined a few scans together. This has recreations of the maps that came with the game, with added notes to tell you where everything is.
What isn't in this book is any interviews or history which is a pity but understandable given just how much had to be crammed in when covering this many games.