Chris Launius has posted a large number of photos of the original artwork for various Origin games on Facebook. I'd normally leave news like this for other sites but this is too good to pass up with the cover art for Ring Quest, the Times Of Lore map, Ultima 5, Ultima 1 and many others. One of the most interesting items is a hand-drawn box art mockup for Knights Of Legend which is very different to the final version. Head on over to Chris's Facebook album to have a look at the rest.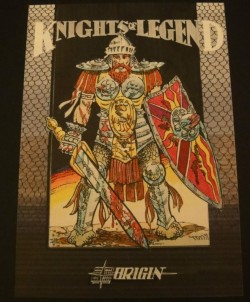 If that isn't enough, he's also got an older archive with drawings from Martian Dreams, Quest For Clues books and some early drawings of the Ultima 5 cover. Chris apparently saved all of this stuff and much more when it was going to be thrown out after Origin were closed down. All of it going into landfill is unthinkable but this sort of thing is hardly an uncommon story. Good to know it's all in safe hands now although I inevitably wish they were mine.
On those lines, I agreed to buy most of the remainder of Rhea Shelley's hoard of Origin memorabilia a couple of nights back. There isn't so much left now so it's not quite the bank account crippling expense of last time but it's enough that I'm certainly going to notice it. There isn't much documentation but there are some cool Origin nik-naks which I had to have. Expect photos in due course but I'm not even close to going through everything I got the first time around yet. If anyone wants a Crusader poster by the way, I should soon have far more than I could ever need.